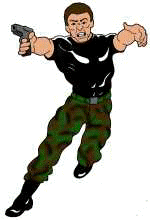 Running Man courtesy of DavidRM Software!
| | |
| --- | --- |
| Thanks to team member Mirage for the Java scroller. | |
NEWS BRIEFS
February, 1998
---
MACMAN #6 TOP10 EVER BONUS


Killing a bot, Macman reached the 20 million bonus point milestone. Congratulations on the accomplishment.
GAMES:8276 BONUS:20129000 SPLATS:24331 ACCURACY:37%



TEAM ADDS NEW MEMBERS


MacLeod Clan recently added two new members. Hurricane comes from a fine background on Purple Haze, and Killah was one of the leadmen of The Amigos. Welcome to both of you.



THEMAN LEAVES THE CLAN


Citing problems arising out of his feelings that he was supporting the Clan, Theman decided to leave the team. Hopefully he feels better about his future endeavors.

CLASSIFIED ADS
---
WANTED!: Macman is looking for a Multi down-filled jacket with refracto and jetpack. Let him know if you've got one for sale.